This, people, is a picture of a watercolor painting.

Phil Chalk's extraordinary photorealist watercolor, Miss Scarlett Walks the Dog, is one of about 80 paintings exhibited at the art museum in the Kansas Watercolor Society's annual Great 8 Exhibition, a juried competition featuring watercolorist's works from Kansas and seven other central and southern Plains states. Later on you'll see some links to the work of other exhibitors. But good old Wichita Art Museum had a couple of other nice surprises today. Below the fold, you'll find some of them.

I have posted about my visits to the WAM
a couple
of times
in the past. Perhaps I go too frequently because today, as I rounded the corner that led to the exhibit of their selections from the permanent collection, I found myself thinking that the paintings there were getting a bit stale for me. But I asked a docent there if the museum had any plans to rotate the pieces there, and he told me that they had plans to do so next month, most likely some sort of thematic exhibition. So, I'm looking forward to returning in August.
Even so, though, there were a couple of new-to-me paintings out that I was pleased to see, and the sculptures were much more numerous as well. I especially liked the three small bronzes by
Alexander Archipenko
, one of which,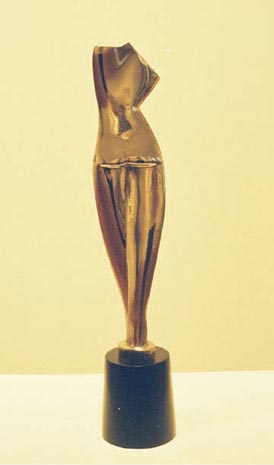 this rear view of
Flat Torso
(1922), you see here (the others are similar in style). Archipenko sculpted in other, more angular styles as well, but these bronzes reminded me of a fusion of Brancusi's
Bird in Space
series and Art Deco sensibilities.
THE big surprise, though, was finding that photographer Rick Nahmias' travelling exhibition,
The Migrant Project: Contemporary California Farm Workers
, was here and will be here till August 13. To say that these pictures are humbling to ponder for those of us whose only labor in getting our food means earning money and then going to a store to buy it is an understatement. To take only one example of what I mean, have a look at
Tomato Tokens, Stockton
, read the text, then do the math, keeping in mind that the man is holding seven tokens in his hand . . . then think about how much you pay per pound for tomatoes at the store. Or, think about
this picture
the next time you eat a watermelon. The pictures come from the workers' lodgings, from their transportation to the fields, from the fields themselves. I feel especially fortunate to have seen these pictures while we are in the midst of debates over immigration policy: at the very least, they have the effect of transforming these particular workers from rhetorical straw men into men and woman and children. But more to the point: I do not feel sad for these people; they are not tragic. Rather, I feel sadness for myself that I am not more mindful of just how my food gets to my table, more mindful of the prices paid by others and not paid by their employers or the people they feed.
On now to the Great 8 Exhibition. I have seen a couple of these exhibitions at the WAM in the past, and though this one is not quite as impressive in terms of overall quality, it is easily the one with the greatest diversity of styles that I've seen. Those of you who associate watercolor with wisp-thin washes of pastels would really like a show like this. Watercolorists really do seem to be able to do whatever they want with their chosen medium--witness the Chalk painting above. There was much to like there, but two artists in particular whose work I liked are
E. Gordon West
(scroll down to see his
Windowscape #1
, which is very similar to a piece he submitted to the show), and
Yeqiang Wang
's detailed paintings of corn and wheat fields; his submission for this exhibition won one of the cash awards. Born in China, he now teaches and paints in Dodge City.
I could go on, but you get the idea: It was a good day at the museum.