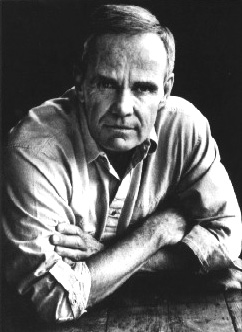 Those were Oprah Winfrey's parting words to Cormac McCarthy in her interview with him, which aired here this afternoon. Them words're the God's honest truth, right there.

Back in March, some of you may recall that I posted about this; I said that though Winfrey's selection of The Road and his agreeing to be interviewed for television were more than a little surprising, I thought that on the whole it at worst would do no harm to him and at best would benefit her audience and other serious American writers.

Well. While no interviewers/interviewees were harmed during the making of the interview, I'm still not sure, despite the montage of images intended to evoke The Road's setting, that Winfrey's repeatedly saying that it would make a wonderful Father's Day gift quite conveyed to her audience what this novel is like. I mean, I don't necessarily disagree with that, but I don't think we're likely to see displays of this book set up by the Hallmark card racks. Nor did McCarthy come across today like the darker-visioned cousin of Melville that he has in the past. I mean, did he really say, "Life is pretty damn good"? Yeah: I wrote it down. But if that's the message of The Road, it's the hardest-won "Life is pretty damn good" that I've ever come across.

So. No mention of cannibals. I anticipate some surprised papas come Father's Day.

But it was less what was said about the book and more about what McCarthy revealed about how he works and what he thinks that I found fascinating. In his first interview (to promote All the Pretty Horses, he said that writing was pretty low on his list of interesting things to talk about; so, about all he revealed was that he writes on a portable Olivetti typewriter (and still does, I learned today). He wasn't much more forthcoming today, but he did say that he doesn't plot before beginning a novel. "Just trust," he says. As he writes, he has in mind an "image of perfection . . . [an] interior image of something absolutely perfect" that, nevertheless, he can never achieve. Spoken like a true Modernist.

Other bits:

He has a strong Tennessee accent and is surprisingly soft-spoken. His voice is a little reminiscent of Truman Capote's--an unfortunate association, because I found I couldn't get rid of it and it would occasionally get in the way of my listening. On the whole, he seemed surprisingly at ease.

Oprah mentioned that she has also read Blood Meridian(!) and No Country for Old Men. Out of her mentioning that, she asked him why he doesn't have many prominent women characters in his novels. "Women are tough. . . . I don't pretend to understand women." He said he thinks most men find them "mysterious."

When she asked him why, back in the days when he truly had little or no money, he would turn down invitations to be paid to give talks at universities, he said, "I was busy." That was probably the most McCarthyesque thing he said--either that, or "You gotta have food and shoes."

He was "busy," by the way, being a writer. He didn't say this, but in a couple of ways he made it clear that talking about writing is not part of the work of being a writer. Talking about writing is a kind of journalism, I think he would say; he said at the beginning of the interview that he doesn't despise reporters, it's just not what he himself engages in: "You work your side of the street, I'll work mine."

"I don't think you have to have a clear idea about who or what God is in order to pray."

So, no, it wasn't horrible. But let me close by relating to you a secret wish of mine as I watched today:

McCarthy wrote the screenplay for a film made in the '70s called The Gardener's Son (no IMDB listing, sorry; let's just say that it's out of print for a reason). One of its characters is a man with a wooden leg up to his hip. There's a scene in the film in which this man is riding in the back of a buckboard wagon with a young boy who doesn't know about the man's leg. The boy is just staring, staring at the man (who is, it must be admitted, a bit scary looking). Anyway, finally the man has had enough of this, so he suddenly pulls out his knife and stabs himself in the thigh of the wooden leg. And smiles. That cures the boy of his desire to stare.

That is the best scene in the film. Spare yourself the search.

Anyway, I hope I'll be excused for secretly wanting a moment like this to have occurred in today's interview, something so evocative of the man and his art as to impress on Oprah and her audience just how "different" this writer is.

______________
For those interested, Clusterflock is home to a bunch of serious McCarthy fans. There's a pretty good discussion of the interview going on there, too.